#newwork @ Nitrokey - Insights Into Our Way of Working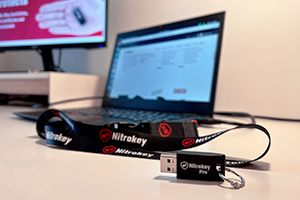 New work. Quite a buzzword lately, right? But what does it actually mean? For our team at Nitrokey, new work means a combination of several things.
Remote And Hybrid Work
We at Nitrokey have always been a team scattered across different locations. No wonder that working together in one physical location has never been a requirement right from the beginning. So we've been very well prepared for this new age of #newwork. Luckily, modern technology not only allows us to work from anywhere (as long as the internet connection is safe and sound), but also to use the right tools for collaboration. While we started oldschool with phone and email, today we use state-of-the-art end-to-end encrypted tools like Matrix.
We're flexible enough to work just as the respective task requires. In our office, some tasks like production and shipping naturally find their place. Also, if a team member feels the need to work from a proper office (our desks are amazing :)), or to meet other team members to enjoy a lunch or coffee together (for real, not on a screen), our office is always an open place to meet and greet. And by the way, sometimes we even decide to not meet in person as we're so good at working together remotely. :D
Flexible Working Hours
Everyone is different. Some people are a morning person. Others are more confident with working late. We've got a place for all of them. Apart from certain team meetings and customer support that need a certain time frame to take place or certain tasks like production or logistics, our team members are free to choose the working hours that suit their daily schedule and productivity best. So for us, what matters most, is a result-driven approach.
Security Built In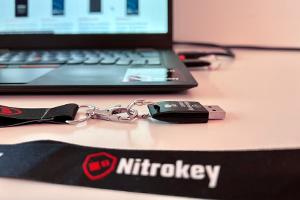 It's no secret that remote and hybrid work can be a challenge when it comes to security. At Nitrokey, we're not only creating security products to secure the digital life of our customers, we're also living security day in, day out. And we're always exploring the latest best practices to secure our IT systems.
For example, hardware-based two-factor authentication using the FIDO feature of Nitrokey 3 or Nitrokey FIDO2 is natural for us. Also, Nitrokey Pro to store personal PGP keys for email encryption enables us to keep a high level of communication security. And NitroPad serves as secure workstation for our team members. So of course, we use our own Nitrokey products. ;)
In addition, we're training our team on security awareness to keep up with threats like social engineering. Last but not least, we're keeping an eye on the necessary data protection implementations to keep our customers' data safe.
International Team With Locations Across Cities And Countries
As already mentioned, Nitrokey has always been a team with people scattered around - within Germany and across Europe. While our office is located in Teltow, a nice town at the gates of Berlin, people don't need to relocate in order to contribute to our company - we truly live working from anywhere. What matters is our people's dedication to Nitrokey's mission and vision, their skills and motivation, and their ability to deliver results. Also, just as a side note, the funny side of the team members is far more important than their location - by far. :) And finally, having people from different locations also contributes to a wide range of perspectives - which helps us to keep a fresh view on things.
Diversity & Inclusion
Speaking of wide range of perspectives - needless to say we welcome kind, talented, and ambitious people from all walks of life. Diversity and inclusion is something not only important to us but also part of our company culture right from the beginning. We don't care who you are, where you come from, etc. - what we care about is that you love securing the digital life as much as we do.
Learning & Growing
Small teams, almost no hierarchies, agile mindset - we build a work environment where everyone shares their knowledge, supports each other, and works together to achieve our common goal of creating world-class open-source hardware security products. Whether it's regular internal sessions or our internal documentation; we focus on enabling our people to learn and grow in their roles as much as possible. This not only helps new hires, but also the entire team to get up to speed.
Communication Done Right
Not being available at physical locations present its challenges. We understand the cons of "remote work" or "new work" and how text communication can lead to misunderstandings. We also understand how being connected via screens can make an individual feel more disconnected. However, we do our best to support one another and try to create an environment where people are represented, integrated, and appreciated.
To adapt to these remote scenarios, we ensure when onboarding new staff, they are compatible of working in our remote-first and hybrid working culture. In order cultivate a positive work environment, we listen to our people and understand their individual personality and needs to keep the right balance between regular touchpoints and freedom to self-organize. We also ensure to attend to our employee's strength, encouraging work tasks that they are comfortable and confident in doing.
We do the best at making the most out of what we have. Whether it would be team meetings, 1:1s, chats or video calls. These days we replaced lengthly email threads by communicating via text chats, voice, and video meetings in Matrix (NitroChat) or Jitsi (Nitrokey Meet). For collaboration tools on shared documents or workflow systems we use applications like Nextcloud and Odoo to edit efficiently and securely. Of course we have physical team events from time to time (as a get-together with food, drinks, and lots of fun). Ultimately, we strive on becoming:
A modern, dynamic, forward-thinking company dedicated to secure your digital life with open source hardware security.
What's your view on #newwork?
23.3.2023