Passwordless Login And Two-Factor Authentication
Weak or stolen passwords as well as phishing, at around 60%, are among the most common entry points for successful hacker attacks, as an
IBM study
from 2019 shows.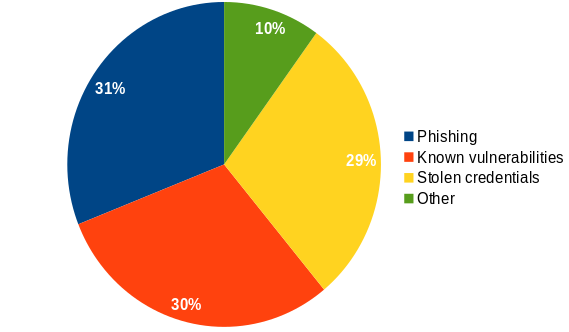 Therefore, experts recommend using long, complex passwords that are different for each service. Although password managers can help, secure use is often perceived as complicated and therefore poorly implemented by users.
With FIDO2 or WebAuthn, there is a new standard that enables password-free login. All you need is your Nitrokey FIDO2 and you can use it to log in to e.g. Microsoft services (Windows, Office 365) and other web and enterprise systems (Nextcloud) at the touch of a button and PIN entry, completely without a password (if desired even without a user name). At the same time, this is done with a high level of security. To prevent phishing attacks, the Nitrokey checks whether the domain used actually belongs to the service.
If the service does not yet support the newer FIDO2 standard, the predecessor standard FIDO U2F offers the possibility to use robust two-factor authentication. In addition to your password, all you need is your Nitrokey FIDO U2F or Nitrokey FIDO2 and you can trigger two-factor authentication by pressing a button on the Nitrokey. At the same time, the Nitrokey also checks whether the domain used actually belongs to the service. This prevents phishing attacks. (Nitrokey FIDO2 is backwards compatible and also supports FIDO U2F)
Advantages
Passwordless: The effort of having to create and securely store a separate, long and complex password for each user account is eliminated.
Easy to use at the touch of a button and with a device PIN.
High security against phishing attacks (through integrated domain check).
More secure than other two-factor authentication methods (e.g. SMS or TOTP/HOTP).
Supporting all common web browsers, no additional client software or driver installation is required.
Integration of FIDO U2F and FIDO2/WebAuthn into your systems
Instead of proprietary interfaces, implementation and operation are based on worldwide industry standards. With the help of our partners, we support you in securing any applications and systems with FIDO2-based password-less login or FIDO-U2F-based two-factor authentication. This is done easily, quickly and cost-effectively without having to fundamentally change your existing system landscape. Whether on-premise, public cloud or private cloud, our partners' solutions scale to meet your requirements (including compliance).
We are looking forward to your inquiries. Please do not hesitate to contact us.
Partner
 
Headquarters
Data location
Open source
Supported FIDO standards

Over 6,000 pre-built integrations for application and infrastructure vendors.

USA
Cloud
--
FIDO2
FIDO U2F

Professional multi-factor authentication system for centralized token management via WebUI or API interfaces. privacyIDEA is highly flexible and can be adapted to any deployment scenario.

Germany
On-premise
Yes
FIDO2
FIDO U2F
Roll out two-factor authentication for all applications while monitoring the user sessions of the protected systems Without installing additional software on the user or system side.
Poland
Cloud
On-premise
--
FIDO U2F
For Atlassian products like Jira, Confluence, Bamboo, Bitbucket or Crowd. With scalability, performance, intuitive operation and continuous development.
Ukraine
On-premise
--
FIDO2
FIDO U2F