Nitrokey Consulting and Service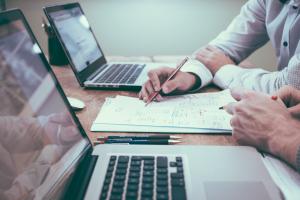 In addition to our products, our consulting and services are increasingly in demand. Our team of qualified experts offers you tailored solutions in securing your systems and developing innovative security solutions.
Strong Authentication
We understand the importance of strong authentication in safeguarding your sensitive information and systems. Our team helps you in choosing the right authentication solution depending on threats and prerequisites, integrating it in custom applications, and rolling it out on a large scale. We are well-versed in the latest authentication standards such as FIDO2, passkeys, and passwordless login but also know One-Time Passwords (OTP, TOTP, HOTP) in and out, enabling us to deliver cost-effective solutions that meet the required security level.
Public Key Infrastructure (PKI) and Hardware Security Modules (HSM)
We support you in setting up a PKI and integrating Nitrokey HSM or NetHSM. This includes requirements analysis, high-level solution design, policy development, key ceremony, technical integration of HSMs into custom applications, and usage of HSMs to secure your crucial cryptographic keys during their entire life cycle.
Development
We specialize in security hardware, embedded Rust development, IoT, low-level and full-stack security development. Our expertise in these areas enables us to deliver innovative and secure solutions that protect your digital assets from the ground up. Whether you want to build secure hardware or software applications with minimal attack surface, we have the skills and experience to get the job done right. Our developer team is passionate and experienced in Rust but has many years experience in Python, C and C++ as well. As one of the driving developers behind the Trussed framework we can not just build modern cryptographic firmware in Rust but also extend the framework if needed for your solution. Of course, we are always glad to customize our own hardware products to your needs.
Security Architectures
Our consultants help you designing and building new or securing existing systems and infrastructures. Where useful, we contribute innovative security solutions from low- to high-level such as TPM, Coreboot, Muen microkernel, MirageOS unikernel, custom and hardened Linux systems.
Qubes OS
Our Qubes OS consulting service and training helps you individually to setup a Qubes OS installation which fits your needs, which you understand and control. This service is offered to individuals as well as enterprises which want to deploy their own customized Qubes OS at a large scale
Nitrokey Business Fulfillment
Interested in introducing Nitrokey to your teams but don't want to deal with the handling and logistics? We can help you with that! Our Nitrokey Business Fulfillment service makes it easy for you to roll out Nitrokey in your organization.
Nitrokey Business Subscription
Interested in rolling out Nitrokeys in your organization while maintaining financial predictability, future safety, and convenience? Our Nitrokey Business Subscription is the completely carefree solution for you.
At Nitrokey GmbH, we are committed to providing great security solutions and services, as you can see from our impressive success stories. Contact us today to learn more about how we can help you building a secure and stable digital solution.
26.6.2023