New: NitroTablet - The First Android Tablet With Physical Security - At Introductory Discount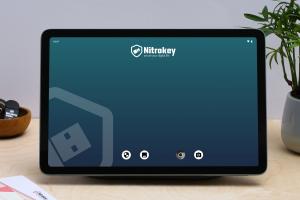 By popular demand and to complement our successful NitroPhone series, we now offer the new NitroTablet!
The NitroTablet offers the security, privacy and ease of use, as you would expect from our NitroPhones, in 11" tablet format. Long-term software updates until 2028 guarantee sustainability and a unbeatable low price per time. The NitroTablet is based on the high-quality Pixel Tablet hardware and GrapheneOS, the most hardened Android for professionals. Gain full control of your tablet without Google and Apple!

Optional: Removed microphones, sensors and cameras make eavesdropping on the environment physically impossible. Phone calls are made with optional headset. In addition, all radio modules can be removed to physically prevent unintentional radio communication. An Internet connection is established via USB-C network adapter.

"If I were configuring a smartphone today, I'd use DanielMicay's GrapheneOS as the base operating system. I'd desolder the microphones." Edward Snowden, NSA whistleblower

The NitroTablet is available for a short time with an introductory discount of 10%. Take the chance and raise your tablet usage to a new, secure level!
21.8.2023