Nitrokey 3A is Available; OpenPGP Card and One-Time Passwords as Test Versions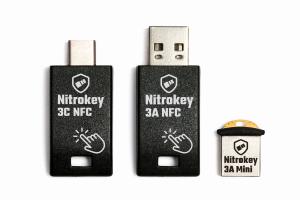 Nitrokey 3A NFC, Nitrokey 3A Mini
Due to the global electronics shortage, the Nitrokey 3 was unfortunately only available in limited quantities. This has finally come to an end! In the last few months we have been able to ship all pre-orders of the Nitrokey 3A NFC and Nitrokey 3A Mini and have built up a stock of these models. So these Nitrokeys can be ordered here and will be shipped immediately from stock.
Nitrokey 3C NFC
We have significantly improved the case of the Nitrokey 3C NFC, the one with the USB-C connector, compared to the first batch shipped. Therefore, its production has been further delayed compared to the other models. Now, production of the Nitrokey 3C NFC has started and we plan to begin shipping it at the end of the year. It is expected that the Nitrokey 3C NFC will be in stock in early 2023.
OpenPGP Card
Many users are eagerly awaiting the OpenPGP Card feature for the Nitrokey 3, and its development has progressed well in recent months. We have now published a test version of the OpenPGP Card for the Nitrokey 3. The OpenPGP Card was developed in the memory-safe programming language Rust and is available in a test firmware version for the Nitrokey 3.
What is an OpenPGP Card?
OpenPGP is an open standard for encrypting, decrypting and signing documents, files and emails, mainly used with GnuPG. Storing cryptographic keys on a smart card such as the OpenPGP Card allows the same key to be used securely and conveniently on multiple devices. If the device is lost, the cryptographic keys remain securely stored in the Nitrokey and cannot be extracted. The OpenPGP Card can be used for email encryption, SSH authentication and many other cryptographic use cases.
One-Time Passwords (OTP)
One-time passwords (OTP) belong to the first generation of two-factor authentication and are very common. Our test firmware supports the two popular methods HOTP (HMAC-Based One-Time Password, RFC4226) and TOTP (Time-Based One-Time Password, RFC6238). Currently, several dozen OTP entries can be stored and used. In a later version more than one thousand entries should be possible. Currently, only the command line software pynitrokey is available for use. In the future, we will support one-time passwords in the graphical Nitrokey App 2.
Outlook
All essential features of the OpenPGP Card and one-time passwords are already implemented. We are still missing support for the Secure Element and some internal improvements and refactorings. We plan to implement this in the first half of 2023 and then release it as a stable firmware version.
Blog
We recently started running a blog in which we report on our development progress and technical topics in more detail. In the blog we cover topics that are too technical or too marginal for the readers of the general news section. If the news section is not enough for you and you want to read more from us, feel free to follow our blog.
23.12.2022