7 Years of Nitrokey And The Future
To mark our 7th birthday, we recap the past year and offer a look ahead to the next 12 months.
Sailing Through the Pandemic
Like most businesses, we were hit by the economic turmoil caused by the pandemic. Fortunately, our sales have not been affected and have continued to grow (more on that later). However, the supply situation of needed electronics and equipment has drastically worsened.
We have addressed this situation by continuing to grow our product portfolio and thus reducing our dependence on individual components. We have been able to greatly expand our portfolio and have released eight (!) new products in the last 12 months: NitroPad T430, NitroPC, NextBox, NitroPhone 1 / 2 / 2 Pro and Nitrokey 3A / 3C NFC.

In this electronics shortage situation, it has proven advantageous that we rely on robust and popular ThinkPad hardware for the NitroPad, which is still readily available as used goods. However, we had to pause developments on a new NitroPad model due to the supply situation.
We also released the new Nitrokey 3 and shipped it to the first pre-order customers. The electronics shortage has led to us not being able to produce any new devices at the moment. We have therefore decided on a strategy of developing the Nitrokey 3 for multiple chips (currently LPC55S and nRF52) in order to reduce our dependence on individual chip producers. Here, our new firmware developed in RUST and based on the Trussed framework proves to be advantageous, as the hardware-dependent part is isolated in a hardware abstraction layer, allowing good porting to other chips. Nevertheless, the development effort is not insignificant and costs us a lot of time and effort. Firmware porting to the new chip (nRF52) is progressing well and we plan to resume hardware production shortly. This work could not have been financed without our loyal customers who have continued to have faith in us even after repeated delays. Thanks to all Nitrokey 3 customers for your patience!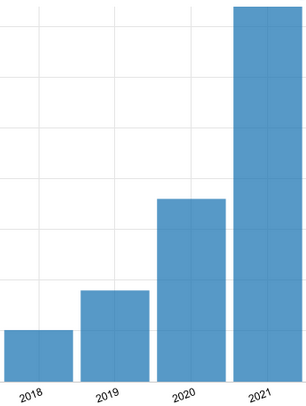 To cope with the growing volume of work, we are continuously introducing new business processes, which we handle as far as possible with software support in order to achieve the best possible efficiency. After all, we do not want to build up an unnecessary "water head" for areas such as customer communication, shipping, accounting, and human resources, but rather remain a lean company. Here it pays off that we have been using a powerful open source ERP system (Odoo) since the company was founded, which can handle or support all conceivable processes. Because we not only develop open source software and open hardware, but also use open source consistently for all internal applications. In the case of the ERP system, this approach allows us to continuously improve the system and adapt it to our requirements ourselves.
The success of the strategy described above is also proving itself financially. In 2021, we were able to maintain our average growth of 100% p.a. since the company was founded. However, this was hard work, which we could only manage because we were able to expand our team by 6 new employees.
In order to be able to better cushion future supply bottlenecks, we have significantly increased our inventory. This, of course, ties up capital that we were able to obtain from sales growth. This allows us to continue to maintain our financial independence without external financing (e.g. venture capital) and without loans.
Outlook For 2022
In 2022, we want to continue on our chosen path, maintain our growth, expand our product portfolio and grow our team. If you would like to join us, we look forward to receiving your application.
Some of our planned developments are:
NitroWall: A professional and powerful network IPS, firewall and VPN gateway.
NetHSM: A professional and open source hardware security module as a 19" server, based on a secure and novel software architecture.
Further developments of the NitroPC and NitroPad.
Nitrokey TRNG: Trusted entropy source for cryptography, research, finance and IT.
Nitrokey 3: We aim to complete chip porting to resume production of the Nitrokey 3 and return to delivery capability. To this end, we are developing a new more robust package for the Nitrokey 3C NFC. We plan to provide the OpenPGP Card and one-time passwords (OTP) functionalities via firmware update later this year. Thanks again to all pre-orderers for your patience!
We are looking forward to another exciting year with you as a great community!
17.5.2022