NextBox - Your Private Cloud for Home & Office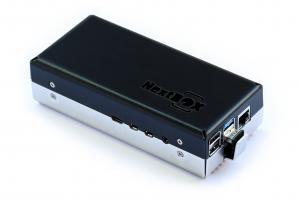 The cloud at your home or office. With NextBox from Nitrokey you get everything you need for your secure and private cloud:
For photos, videos, backups, files, address books, calendars, office and more
Compatible with Android, iPhone, Windows, macOS, Linux
Easy to use without technical administration
Automatic updates for many years
Access on the go, from everywhere
Based on Nextcloud
Extendable with hundreds of Nextcloud apps
Without monthly costs
Open source
Convenient, no administration effort, space for photos, videos and backups - it's hard to imagine life without the cloud these days. But where is your data stored and who has access to it? Do you trust the big names in the cloud industry? Is everything secure in the cloud?
We say: With NextBox you get the best of both worlds: The convenience of the cloud, plus the security and privacy of your own NextBox, located in your home or office.
With NextBox, you no longer need to hand over your precious data to anyone anywhere in the cloud. Instead, your data treasures are right where they should be: Under your control, on your own device, with the cloud convenience you're used to.
Private Cloud
Store, sync and share photos, videos, backups, files, address books, calendars, office and more. Compatible with Android, iPhone, Windows, macOS and Linux. Remote access is possible while on the go. NextBox uses the well-known and reputable Nextcloud software, which is extensible with hundreds of Nextcloud apps.
Secure & Souvereign
NextBox manages your data securely from attacks. Thanks to open source, backdoors in NextBox can be excluded. Your data remains on-site with you at all times, so you retain control. 100% data protection and GDPR compliance.
Simple automatic updates
No technical knowledge is required to use NextBox. Software updates are installed automatically. The Ubuntu Core operating system will retrieve security updates until 2028.
Your data from anywhere
With NextBox you have a central data store at your home or office. Your data is accessible - even on the go - from various devices with all operating systems. Of course TLS-encrypted and without the need to upload them to a cloud provider.
Various Backups
NextBox is suitable for backing up your computer. You can also connect an external hard drive to back up your NextBox data. You can also store the data of your NextBox end-to-end encrypted on a separate server.

Sounds good? Secure unique price advantages and support our crowdfunding campaign now!
The NextBox Idea
To make the cloud more secure for everyone we decided to start a crowdfunding campaign with our idea. We want to reach more people and convince them not to blindly entrust their data to big-name corporations and expose themselves to more and more hidden risks. We want to offer everyone a way to give their data a safe home.
Why Crowdfunding?
Developing a new product not only costs a lot of work but also money. We produce our products exclusively in Germany and have very high quality standards. Since we are a small company without investors, we rely on the support of the community.

Automatic, Administration-Free Updates
Compared to similar systems, NextBox is characterized by maintenance-free operation. To enable this, Ubuntu Core is used, which is designed to run secure IoT systems. This is a lightweight Linux operating system that will be provided with security updates for 10 years (starting in 2018). The Nextcloud software is installed as a snap package, which is compartmentalized from the actual operating system. This enables reliable software updates, so that in the event of a failure (e.g. power failure) incompletely installed updates will be rolled back. Software is stored independently of user data, so data is preserved. All this is possible without user interaction. Therefore, no terminal/SSH access is needed to manage the system. Advanced users are of course free to install their own system on NextBox.

How is remote access from the Internet enabled?
We have put a lot of effort into providing smooth and easy-to-use remote access. NextBox can be shared using either of the following methods:
 The easiest-to-use method requires only the entry of a domain name, one's email address, and an authentication code included with the NextBox for configuration. Afterwards the NextBox is accessible under the chosen domain name, e.g. alice.nitrokey.com. With this method, traffic is routed through a proxy server provided by Nitrokey. This ensures that the NextBox can be reached without any problems. It should be taken into account that, for example, when accessing via cell phone which is logged into the in-house WLAN, the data traffic is routed once to the proxy and once back to the NextBox, and thus passes the Internet connection twice.

If no proxy is to be used, an easy-to-use method using Dynamic DNS (DynDNS) is available. The configuration in the NextBox is also very simple, as in the above point. In addition, however, a port share (port 443) may have to be set up on the home Internet router. The use of UPnP is planned to further simplify this step. With FritzBoxes, among others, the selected domain must be released under "DNS rebinding". Since nowadays most internet connections are IPv6 capable, the use is usually problem-free. But if the client or the NextBox is not connected via an IPv6 capable access, access problems may occur.
The DynDNS provider used is the Berlin association deSEC, which provides a modern and professional DynDNS service.

Advanced users can use any other DynDNS services.
In addition, remote access is possible using a static IP address or a self-defined domain (e.g. using the Dynamic DNS service of the Internet router).
2.2.2021