NitroShred - Data Destruction On-Demand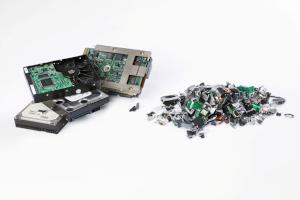 Easy and professional data destruction for self-employed persons, startups, small businesses and private individuals
Do you occasionally want to securely destroy individual data media without subscribing to a "ton" or paying an expensive pick up service? You send us your data carriers and we take over the secure destruction!
Whether GDPR or data leaks, whether business or private - many reasons speak for a secure destruction of data media. In order to securely destroy data and thus protect it from improper access by third parties, a simple deletion is often not sufficient. The most secure variant is physical destruction (e.g. shredding). We destroy your data media safely and easily. This way you remain GDPR-compliant and avoid data leaks, damage to your reputation and penalties.
Transparent And Inexpensive
On demand and at a fixed price you will receive a professional data destruction service. No subscription, no price inquiry, no minimum volume. Ideal for self-employed persons, startups, small businesses and private individuals.
Secure And GDPR-compliant
Whether hard disks, SSDs, USB sticks, memory cards or mobile phones - all data carriers are mechanically destroyed by shredding according to DIN 66399. The process is carried out under strict security precautions and helps you with your GDPR compliance. You will receive a destruction certificate which serves as proof of the data protection-compliant destruction of data media during audits and tests.
So Simple
You order at a fixed price in our online shop.
You will receive a shipping label (DHL parcel) from us, with which you send us your data carriers (incl. shipment tracking). (optional)
We take care of the secure destruction of your data media and provide you with a destruction certificate.
Further information and ordering in our online shop.
17.7.2020