Exhibition at the Embedded World Fair in Nuremberg, 28.2.-1.3.2012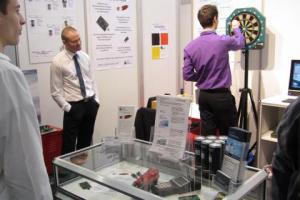 As in the previous years, also in 2012 we will have a booth at the Embedded World fair. Guests are welcome to get information about the status, latest developments, and outlook of the Crypto Stick project. Developers will be available to discuss even in-depth technical aspects such as adapting or integrating the Crypto Stick into other products and systems. The Embedded World will be held from 28th February to 1st of March in Nuremberg, Germany. See you there! Update: The exact location is hall 4A/4A-308l at Dridger & Schwenke's booth.
Update 2: A few pictures of the now already past event.
4.3.2012