Streamline Employee Attendance Tracking With Nitrokey, FIDO2 and Odoo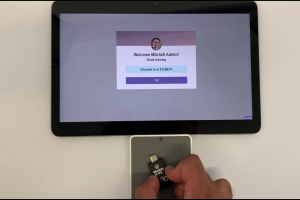 In this blog post we explore how Nitrokey's FIDO2 security keys can revolutionize attendance tracking solutions, providing enhanced security with reduced costs.
Effective time tracking is vital for organizations to ensure their productivity. In many countries, including Germany, accurately recording, and storing employee working hours is a legal requirement. Failure to comply can lead to legal consequences and financial penalties. At the same time attendance tracking systems are often proprietary and separate systems which can be expensive. For an integrated and streamlined solution we present an innovative solution by utilizing existing Nitrokey FIDO security keys.

Nitrokey is the leading vendor of open source, secure hardware devices and offers FIDO2 security keys designed for two-factor authentication and passwordless logins. FIDO2 security keys are typically used for secure and user-friendly authentication to websites but they can be very well used for physical attendance tracking too.
Odoo is a professional enterprise system which offers diverse applications to manage all aspects of a business. Odoo's comprehensive functionality includes attendance tracking, time tracking and leave management, further enhancing its utility for employees. It is available for free and open source but also enterprise services are offered. By integrating FIDO2 authentication with Nitrokey devices, Odoo seamlessly incorporates attendance tracking into its existing processes and employee's timesheets. This integration simplifies the process for employees and HR departments, allowing for efficient time management.
Benefits
Enhanced Security: Nitrokey security keys provide a strong authentication method, ensuring the accuracy and integrity of employee attendance data (and security of other enterprise systems).
User-Friendly Experience: Nitrokeys with FIDO2 offer a streamlined authentication process. Employees can simply present the Nitrokey 3 NFC which they use already to login to other enterprise systems. This eliminates the need for additional employee keycards. This user-friendly approach enhances convenience and efficiency.
Cost Savings: By replacing physical employee key cards and proprietary systems, organizations can reduce costs and increase operational efficiency. The simplified process reduces administrative tasks and boosts overall productivity.
If you're interested in implementing Nitrokey and FIDO2 technology to optimize your organization's attendance tracking process, our team is ready to assist you. We can perform the implementation and help you unlocking the benefits of this secure and efficient solution.
Streamline Employee Attendance Tracking With Nitrokey FIDO2 and Odoo
12.7.2023